The first patient-centered, nurse powered EMR for telemedicine
Digital health programs require a patient experience that proactively engages patients and helps them navigate through the healthcare process. This is why Nurse-1-1 is launching a new kind of EMR. One that is powered by our network of over 2,000 nationwide nurses and advanced practice providers. Having nurses at the core of your digital health solution will engage more patients, drive better patient outcomes, and improve overall program success.
The Nurse-1-1 EMR is a fully customizable electronic medical record that guides our NPs, RNs, PAs, and MDs through your specific program workflow. Already used by innovative healthcare companies such as SteadyMD, the EMR can now be simply added to your product—along with our nationwide network of nurses and providers—to launch and scale your telemedicine program quickly and reliably.
Influence and navigate patients
Our medical team trains our nurses and advanced practice providers to work within your custom version of the EMR. With the empathy and influence that only a nurse can provide combined with the technical infrastructure of our EMR, your program can boost patient engagement, drive program adherence, and successfully navigate patients through our complex healthcare ecosystem. This means improving health outcomes and overall program success.
The Nurse-1-1 EMR is used for programs that:
Improve the patient experience for at-home testing

Help navigate patients through any at-home healthcare program

Improve medication adherence and health outcomes

Reduce emergency room visits

Provide streamlined, program specific templates for digital health programs
Measure program metrics and improve health outcomes
And now you can measure health outcomes. Our EMR reporting feature enables admins to dive into the data, ensuring you are meeting program goals and improving patient health outcomes. 
Customize the EMR for your program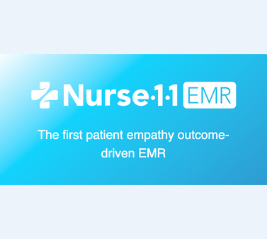 Partner with our product team to design your ideal provider workflow. Customize with patient charts, template-based notes, encounters, medical record dashboards, and more. 
Work alongside our medical team to train providers on program specifics in the lead up to launch. Ensure ongoing program quality with regular audits, NPS data, and provider feedback channels moving forward.
Add nurse consults at any point along the patient journey to ensure compliance and an overall better patient experience. 
Interested in learning how Nurse-1-1 can help power your digital health program? Contact us here to request a demo.