Digital health and pharma platforms have the power to unlock better results for their patients.
Live chat features have changed the way we think about customer service. Getting advice or solving a problem is as easy as typing a few messages: no phone calls, no in-person meetings, no small talk required.
Live chat has a higher satisfaction level – 73% – than any other customer service channel. We might typically think about live chat in terms of tech support and customer success. But what if this instant communication method could change the way we think about medical care? Could we solve common issues like non-adherence and miscommunication that drain resources and deprive patients from the care they need?  
Everyone loves the potential upside of digital health and online pharma platforms. Innovative medical platforms can help fully realize that potential by providing their patients with a creative solution. 
The prescription: online live chatting with nurses. We all know nurses are incredible. Embracing their talent and resolve on digital health and pharma platforms can help patients see actual results. 
Non-adherence to medications costs the healthcare system $600 billion annually, according to research by HealthPrize and Capgemini– and that was before the pandemic increased the prevalence of remote care. Out of every 100 prescriptions sent, fewer than 70 are picked up and paid for at the pharmacy, less than 30 are taken properly, and only about 20 are refilled as prescribed. Test kits aren't always returned to labs or used properly, with barely a 50% return rate in some cases.
The lack of adherence might be disheartening. On the bright side, an online nurse chat represents a powerful tool in the quest for greater adherence rates, better care, and improved outcomes. The solution to wasted resources and miscommunication lies in the very people on the front lines of digital healthcare: nurses.
Here's how to put nursing expertise at the forefront of your digital health offerings through an online nurse chat.   
The Problem: Patients need better communication and access to information.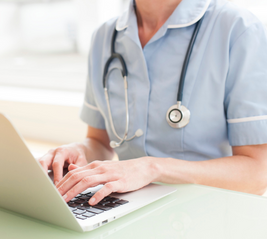 Not everyone feels comfortable with digital health options, especially older patients. About 25% of seniors – some 13 million Americans – don't feel ready for digital options for reasons like distrust of technology and privacy concerns. 
Additionally, some patients face barriers to the effective use of medication and test kits. The most common barriers to proper adherence for patients include poor provider-patient communication, inadequate knowledge about prescriptions, a lack of perceived need for treatment, and fear of adverse effects, according to OMJ.
What do both of these trends have in common?Patients seem to feel that their treatment options are lacking a human touch. Tapping into the human side of healthcare can help patients overcome technological woes, confusion, and misinformation about prescriptions and tests.
The Solution: Nurses can help patients make the right health decisions and take advantage of your digital health offerings.
Many people share stories of how a nurse helped their family through a difficult medical procedure. Nurses are constantly interacting with patients and their loved ones, and are experts in providing clear communication and empathy. 
It's no surprise that nursing has been recognized as the most trusted profession in America for each of the past 20 years, per the Gallup poll.
The digital healthcare world can feel impersonal. It's often difficult to navigate. Nurses and advanced practice providers can proactively engage patients, giving them advice and empowering them to properly utilize the resources available to them.
How can companies leverage nurses at scale?
Combining tech-enabled options with human nurses brings the best of both sides to the table. That's where an online nurse chat comes into play. 
Platforms that demonstrate a commitment to administering comprehensive care and increasing adherence will stand out to their patients. Busy organizations need a simple way to bring nurses to the frontlines of digital care. 
Here's one: partnering with a full-service platform like Nurse-1-1 that offers your patients instant access to an existing network of over 2,000 NPs, RNs, PAs, and MDs. Nurse-1-1 is a HIPAA-compliant complete customer service platform built for digital health platforms. When patients see the Nurse-1-1 logo on your digital platform, they'll feel confident knowing that they can speak directly with independent nurses about your service options.
Through our growing nationwide network of nurses, Nurse-1-1 offers a live nurse chat tool that can be embedded directly into other digital platforms. In 2021, our platform conducted over 10,000 patient consultations through our partnerships with digital health, at-home testing, and pharma companies. On average, patients were connected with a nurse in fewer than 8 seconds.
Nurse-1-1 provides support for:
At Nurse-1-1, we're bringing trust into the growing digital health market, pioneering a new category in healthcare with a patient-centric and dialogue-driven approach to care.
Could your organization provide better care with the help of an online nurse chat?
Get started
with Nurse-1-1 today!