Nurses are considered the most trusted and ethical profession in the U.S. Patients trust the health care advice given by NPs and often prefer to see them for health care visits. And increasingly over the past few years, our medical system has responded by empowering nurse practitioners as primary care providers and patient navigators.
Growing patient demand for telemedicine and other digital health services combined with our nationwide shortage of both nurses and physicians underscore the importance of utilizing nurse practitioners to their fullest extent. Effectively deploying nurses can drastically improve access to health care and help patients better navigate our complex medical system.
Here at Nurse-1-1, we love nurses and know that patients do, too. Our platform can quickly be embedded into any existing digital health experience and connect patients to our network of over 2000 advanced practice providers. Our providers are able to offer helpful medical guidance and help support patients with questions about at-home testing, answer questions about their medications, and provide support when patients need it most. We partner with digital health companies to offer their patients a trusted independent source for a nurse to navigate patients through their healthcare journey and get them where they need to go.
Expanding NP practice authority during the pandemic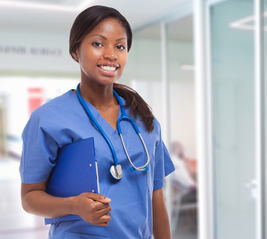 In the midst of a crisis, healthcare workers were thrown into the limelight, managing COVID-19 as it blew through the country. In almost every state, emergency orders allowed nurses and NPs to cross over and care for any and all patients that needed care. Across many states, emergency orders gave NPs the ability to practice independently with full practice authority and to the full extent of their training and education, something the nursing community has been fighting for for years. 
Before the pandemic, 22 states in the U.S. were "full practice authority" states, allowing NPs to provide direct patient care with full clinical autonomy. In the remaining states, NPs practiced with "collaborative practice agreements", meaning they had supervising physicians. During the pandemic, 14 states lifted requirements to allow more independence for NPs and five states suspended practice agreements altogether. Countrywide, the CARES Act permanently authorized NPs to order and provide care for Medicare-eligible home health patients, increasing access to care in a more timely manner, decreasing the workload of hospitals by allowing patients to return home sooner, and decreasing the spread of COVID-19 overall. Pre Covid-19, NPs were limited and not approved to care for Medicare home health patients.  
NPs have been critical during this pandemic. NICU nurses found themselves at the bedside providing ICU care and outpatient ortho NPs managing COVID patients in a packed inpatient unit after a few short trainings. Research supports that NPs provide equivalent or higher quality care than physicians, and have been found to provide care at a 29% reduced cost than physicians in the primary care setting. NPs also are more likely to practice in rural areas and care for medically underserved patients than physicians, making their reach even more critical.
During the pandemic, the medical community came together as sick patients surged in every office and hospital across the world. We saw NPs for what they really are: knowledgeable, capable health care providers with similar outcomes as MDs. And they were critical in bridging the gaps in healthcare. Allowing NPs to practice at full capacity will extend how far they can reach into the community. With increased providers practicing independently, we will see a decrease in the nursing shortage, gaps in care can be addressed, patient satisfaction should increase, and the most trusted and ethical professionals will thrive. 
Nurses are the key piece to reaching and engaging patients
Over the past year, we have seen just how valuable nurses and NPs are to our communities. We couldn't have made it through the pandemic without them. During this time, we realized that patients don't always want or need to leave the home when seeking care, and that nurses can help guide them in their healthcare journey. 
As NPs gain more independence, we see numbers rising in the NP profession. This is especially important since there is expected to be a primary care physician shortage by 2032. About one in five healthcare workers has left their job since the pandemic started. Besides MD burnout, the number of retiring MDs is rising and the general population increasing, adding to the shortage. In many states, NPs are increasingly being accepted as PCPs in many offices. Increased numbers of NPs leads to increased access to care.
Reaching patients, educating them, and influencing them is where Nurse-1-1 thrives. We have been here since before the pandemic, developing a system with nurses and patients in mind. We know that people love telehealth, now more than ever. We also know that nurses are the key piece to reaching and engaging patients. Since the pandemic, telehealth has evolved, become more mainstream, and taken its permanent place in the healthcare community. With Nurse-1-1, we have a nurse to help guide any patient within 8 seconds—health care at their fingertips, wherever and whenever. This is the better way of healthcare. No more waiting hours for a response, endlessly searching google for answers, or wondering where to go next. Tap to chat, get answers and guidance.
By Kim Liner, Chief Nurse Practitioner at Nurse-1-1, RN, MSN, CPNP