We normally would be looking for the best sale on new backpacks and getting school clothing ready for the fall semester. But here we are waiting for information on what is going to happen next… Will there be school in classrooms? Will it be online? A mix of both? Will I be the teacher? Will the kids get on the bus?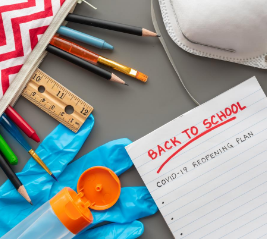 We all know that things have been changing by the minute, and we never know what the next announcement will be. National, state and local officials don't agree and neither do parents and neighbors. COVID has taken the country by storm. How will we get through another school year? What will our year look like?
We just don't know. Nobody has the answers we need. I for sure don't. But as a mom of three, I cycle through how September will look for us, on a daily basis. In my mind, scenarios change by the hours. It's going to be hard. It's going to be new and unexpected. Here are the options that most of us face in just a few short weeks: full day in-classroom learning, hybrid learning, full remote learning, homeschooling, microschooling, among others. What are these different types of learning options?
Full day in-classroom learning
Full day in-school learning means your school will allow all students and teachers to enter back into the classroom for a full day of school. Entering school will involve new rules like handwashing and face masks to decrease spread of COVID-19. Some schools will follow the CDC recommendation of social distancing 6 ft apart and some will follow the American Academy of Pediatrics recommendation of 3-6 ft apart. Learning will be all in the classroom but may look different than a usual year. Many schools will keep the class in the same room for the entire day, including lunch and specials such as gym and art. Some will have classes outside. Teachers and students will likely be wearing masks and there may be clear barriers set up around the class. Gone are the days of rug time and group desks. Desks will be facing forward in most classrooms with different setups from what we are used to seeing in the classroom.
Hybrid learning
Some schools will offer a hybrid learning option. What this will mean is that children will be able to go to school some days and do at-home remote learning on other days. Splitting them up allows for more room to social distance with conservative spacing at 6 ft apart. It also separates the school into separate cohorts to prevent an outbreak from affecting the entire larger group. For many schools, this looks like an every other week in-school option, ½ days in school option, or some variation. This will differ by school. The remainder of the days can be a combination of independent online learning, flexibility of schedules, live classroom instruction video, and one-on-one calls. Some areas may be able to test innovations at home that non-traditional approaches to education can provide, such as theme- and project-based assignments, interdisciplinary units that tap into students' interests, mastery-based grading, and solving real-world problems. The hybrid learning option decreases the amount of kids in a school and classroom at one time and allows for a safer school day, knowing there are less children in the space.
Full remote learning
Many towns are offering full remote learning as well. Parents need to keep in mind that in many towns, this will not be the same experience they had during the emergency shutdown. School systems have learned a lot from that experience and are adapting and creating remote learning plans. States are choosing remote learning platforms that allow for deeper instruction and learning experience. Gone are the days of simply jumping on a zoom call.
Full remote learning is an option many school systems are offering students, families, and staff who are immunocompromised and students who feel they can thrive in the remote learning environment and prefer a non-traditional school experience. Full remote learning will offer flexible schedules for families who need to make adjustments based on their schedules.
Students in the full remote learning options will have a curriculum that will align with their peers in the in-classroom and hybrid options. Day-to-day teaching will look different, and students will be provided with a rigorous learning experience that takes into account the social nature of how kids learn. Fully remote learning should also take into account the unique challenges and opportunities of effective online instruction and learning. A proper online learning program will need to prioritize the creation of strong relationships between teachers and students, and between students.
Classes such as music or band, that cannot happen in-classroom during the pandemic, can proceed online if towns take action to deliver cleaned instruments to students' homes. At home, wind instruments can be played without face masks, and other instruments can be handled without other restrictions that are preventing many in-classroom options from having music class all together.
Homeschooling
Homeschooling is led by the parent independently or through a private homeschool program. This option requires unenrolling your student from public school and either enrolling into a private homeschool program or submitting your own plan for homeschooling. Homeschooling allows parents to have some control over their child's day and curriculum. For some families, this mimics a traditional school day with a classroom-like schedule and for others a more child-led, flexible learning environment. These children can integrate back into public schools at any time, or can homeschool until college. Homeschooling allows for flexibility and provides options for students and families who wish to lead learning in their home. There are many homeschooling resources available for this fast growing option that is legal in all 50 states.
Microschooling or pod-based schooling
Parents who are not ready to send their kids into a school building with many unknowns are getting creative. A new homegrown option for those who can't rely on the ever-changing and unpredictable school environment have come up with their own plan: micro schooling or pandemic pods. For some who have the resources, this means hiring a retired or unemployed teacher to teach a small group of children. For others, it means parents will take shifts or have a rotating schedule where they support the remote learning plan. This small group develops with many factors in mind and makes their own rules. Is this a low-risk family? Are they the same age and grade? Do they get along? Do they live close by? How will we discipline and keep these kids focused? For some, the thought of sharing the responsibility is very attractive and for many with limited resources, an alternative option is essential.
Options for learning
We don't have all the answers, and going back to school (or anywhere for that matter during the pandemic) is not 100% safe. Wearing masks and distancing yourself helps in preventing the spread of COVID-19. Many parents and teachers worry that not all students will be able to follow these directions properly. Unfortunately with COVID-19, it only takes one person to spread their germs and one misstep to catch them.
We know that not all families have the same options and opportunities for learning. Education disparities already exist, and this gap will only widen with COVID-19. Race, economic status, geographic location and now disruptions in school are all major contributors to disparities in health and also in education.
As the back-to-school plans evolve, we realize that there are limited resources and plans for those without the economic resources or time, who are uncomfortable with in-classroom options to rely on. Many are feeling frustrated and uncertain. One resource is the Families First Coronavirus Response. For some who qualify, this may provide an option for a paid leave to some parents who wish to participate in fully remote learning.
Do what is best for you, your family, and your community
No matter what you decide to do, be kind to your neighbors and friends. Fighting about these back-to-school options will not get us an answer on how to solve this pandemic. Remember, it's ok to have different opinions. It's natural to think our way is the best way. It's fine to discuss, but it's not ok to tell anyone they are wrong, or that they are making a bad choice. This is a crisis. We are anxious. We are uncertain. What we do know is that each of us is making decisions for our families, communities, teachers, and school staff. We are doing the best we can. Given the options you may be given, you are doing what you think is best. Pat yourself on the back, and press on. You are an awesome parent!
The opinions expressed in Nurse-1-1 Health Center Blogs are solely opinions of the writer. Other than information received directly by you from your personal provider, the health center blog should not be considered medical advice. Read more.