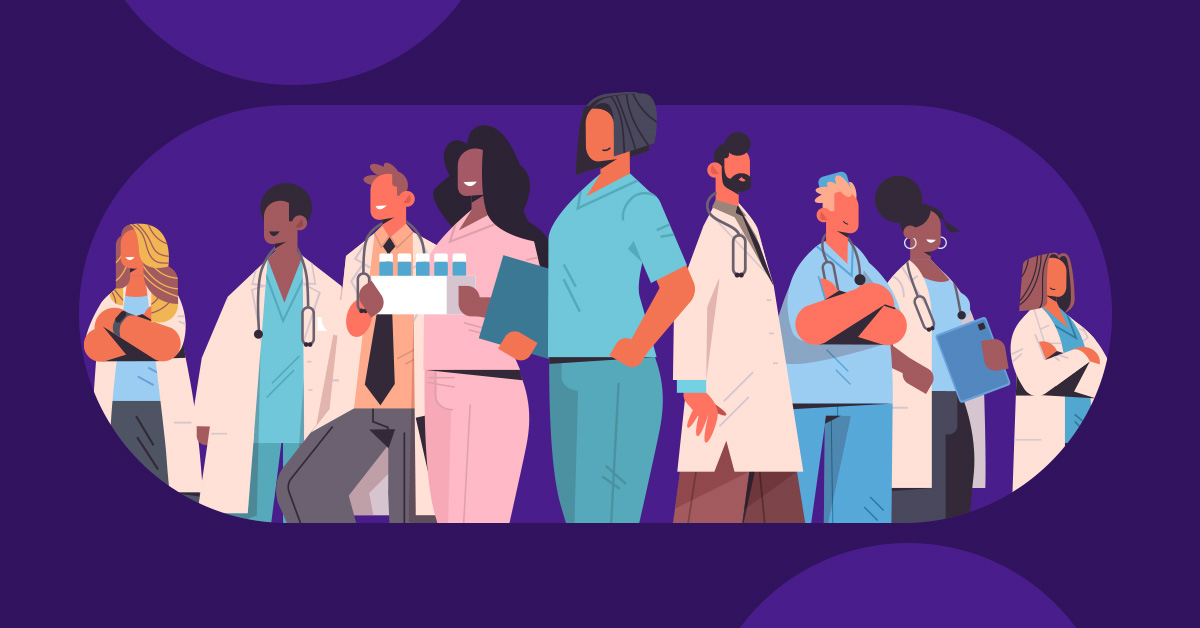 Despite being digital, our nurses still embody safety, empathy and trust throughout patients' healthcare journeys.
While we have almost three thousand nurses on the front lines of digital heath, our front lines look a little different than a doctor's office or urgent care facility.
Our trusted nursing network may be in front of a computer or phone to provide trusted guidance for patients, but they are still the same nurses that you may encounter at your next check-up.
It's time to look past the screen to better understand who the Nurse-1-1 nurses truly are.
The Nurse-1-1 Network
Our nursing network is made up of nearly 3,000 highly-experienced NPs, RNs, PAs, and MDs throughout the United States who can provide trusted guidance for patients in all areas at any time of the day or night.
Despite the virtual connection, our nurses provide the same level of empathy and trust that your patients would feel when chatting with them during an in-person visit.
They are trained, licensed professionals across practice areas who provide recommendations for patients throughout their healthcare journey, such as addressing a question about a medication refill, at-home testing concern, or general question about a patient's health.
What does a typical nurse within our network look like?
Seasoned healthcare professional with an average of 11 years of hands-on experience (and minimum of five years)

Licensed healthcare professional (RN, NP, PA or MD)

Trained healthcare professional who receives ongoing Nurse-1-1 training

Verified healthcare professional (resume verification, background check, interview process, HIPAA agreement and more)
Here's a snapshot of just one nurse within the Nurse-1-1 network:
I was an ER nurse in a Level One trauma center for 8 years before becoming a family nurse practitioner. I've since worked in a variety of settings including urgent care, primary care, weight loss, occupational health, health risk assessment, and eventually telemedicine.
As you can see, our nurses are extremely qualified. However, our services are not meant to replace the care patients would get with a hospital or telemedicine visit. Instead, Nurse-1-1 is an additional trusted resource that can guide patients towards the right next steps. If a patient has a concern about an unfilled prescription, or a question about whether a product is right for them, they now have a very accessible and trusted solution with our nursing network.
How Our Nurses Work With Patients
Nurse-1-1 nurses follow a patient through their digital healthcare journey, so patients can rest assured that our nurses provide quality recommendations that are specific to their needs.
After a chat is initiated (patients are connected with a nurse in an average of eight seconds or less!), our nurses talk independently with the patient to understand their health concerns and questions. Mid-way through the chat, the nurse sends the patient a personalized recommendation from a list of clear, pre-set and client-configured "navigational recommendations" within the product. This allows the patient to understand the recommendation and ask any follow-up questions about next steps.
This personalized attention to detail allows our nurses to be very influential in helping patients make the best decision possible.
And this type of attention to detail is working.
Early adoption of our Nurse-1-1 live chat widget has shown a 57% increase in patient adherence after implementation. With our live nurse chat, patients instantly receive the information they need to make the best healthcare decisions. Similar to an in-person visit, our widget stays with patients while they browse the web and navigate from page to page to ensure they have help along the way.
With studies showing that both medication and testing adherence significantly increases with access to a provider who can answer questions and alleviate concerns, it is clear that injecting human interaction and empathy into a patient's digital health journey will go a long way in addressing non-adherence and guiding patients to positive outcomes.
Get Started with the Nurse-1-1 Nursing Network
Does your organization need access to a network of nurses that helps patients engage in real-time with your platform, educates them about your product or services, and empowers them to adhere to your offerings?
Our nurses provide trust, empathy, and influence that support and guide patients through their at-home care experience, promoting proper adherence, improving patient education, and increasing patient activation and engagement with your platform.