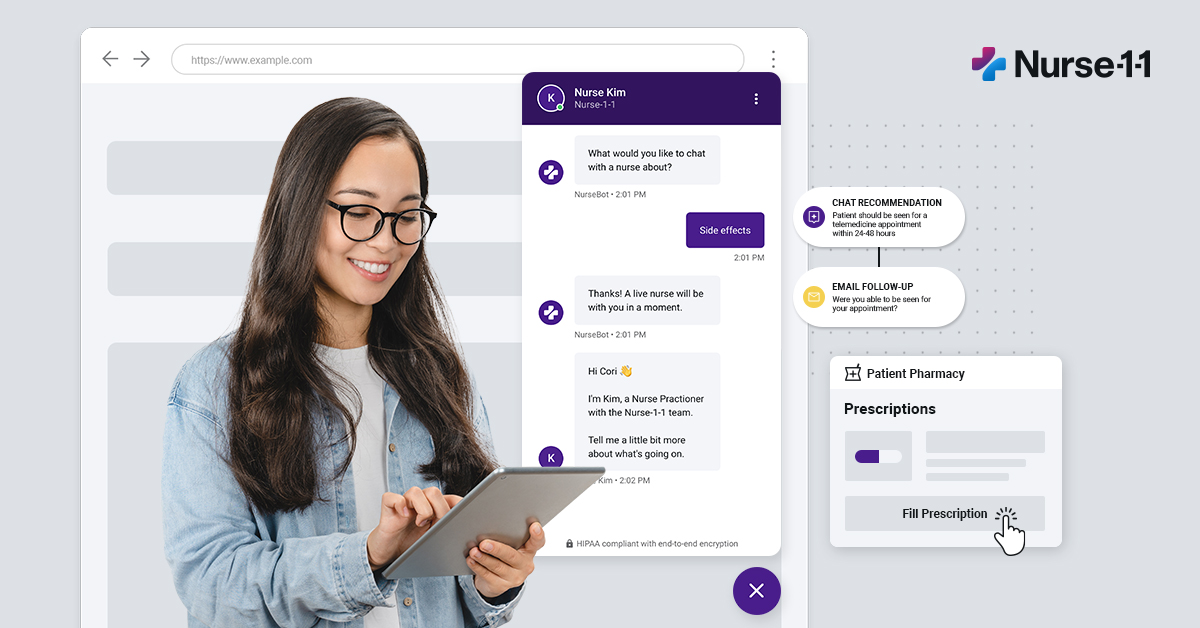 Patient non-adherence is a major problem for digital health platforms. We're using conversational marketing to introduce a new era of healthcare technology.
Patient non-adherence is a major challenge for the healthcare industry. It's keeping patients from the best possible health outcomes, robbing online health platforms of their potential and taxing a healthcare system that's already working hard to integrate innovative new technology.
At Nurse 1-1, we're committed to helping digital health and online pharma platforms tackle non-adherence. Our new live chat widget is here to help.
Digital health platforms are leading the charge in healthcare's digital transformation. They're helping increase access to care and making standard processes more efficient. But as we transition to a more tech-enabled healthcare world, digital health and online pharma platforms need complementary solutions to help replace the personal, in-person touchpoints that are now absent in the patient journey.
That's where our nurse live chat widget comes in. We're using a new type of healthcare technology – conversational marketing – to tackle non-adherence, one of the industry's most expansive problems. 
Digital health platforms are using Nurse-1-1's new live chat widget to help their patients adhere to treatments and, ultimately, drive better health outcomes. The widget is easy to implement, and allows platforms to add live NP, PA, RN, or MD chat functionality to all patient-facing web pages within minutes. 
Early adoption of our Nurse-1-1 live chat widget has shown a 57% increase in patient adherence after implementation – and this is just the beginning. 
Nurse-1-1 is addressing patient non-adherence
A lack of patient adherence to medication, testing and other treatments is a drain on the healthcare system.
Non-adherence to medications costs the healthcare system $300 billion annually – and that was before the pandemic pushed almost everything online. Out of every 100 prescriptions sent, fewer than 30% are taken properly. Test kits aren't always returned to labs or used properly, with barely a 50% return rate in some cases.
Patients face many barriers to proper adherence, including poor provider-patient communication, limited patient knowledge about prescriptions, a lack of perceived need for treatment and fear of adverse side effects.
Patients should not be facing so much uncertainty and confusion when it comes to treatments that positively impact their health and well-being. Both medication and testing adherence significantly increase with access to a provider who can answer questions and help alleviate concerns. 
Injecting human interaction and empathy into a patient's digital health journey will go a long way in addressing non-adherence.
How it works: the Nurse-1-1 live chat widget
The Nurse-1-1 live chat widget prioritizes provider-patient communication. Patients are able to instantly receive the information they need through streamlined communication with a nationwide network of 2,500+ NPs, PAs, RNs and MDs.
The widget is
easy to implement
Digital health platforms can easily embed Nurse-1-1's HIPAA-compliant live chat widget into any digital health experience – no coding needed!
The widget is
personalized for each patient
The Nurse-1-1 live chat widget is designed specifically to be with patients at any point in their healthcare journey. The widget stays with the patient while they browse and navigate from page to page, providing support every step of the way. Patients can rely on Nurse-1-1 and its network of professionals to provide the personalized attention and care they need and desire.
The widget is
secure and HIPAA compliant
Our patient's security and privacy are paramount. The widget is fully HIPAA compliant and provides end-to-end encryption.
Increasing Patient Adherence by 57% with Nurse-1-1
With the Nurse-1-1 live nurse chat widget, patients instantly receive the information they need to make the best healthcare decisions while they're already looking for help within your digital health or online pharma solution.
An efficient and accessible online journey combined with the empathy and human touch of a real-life nurse? That's what makes digital health/online pharma platforms and the Nurse-1-1 live chat widget a winning combination.
Need a tool to help your digital health or online pharma platform drive patient adherence? Visit
nurse-1-1.com/widget-product
to learn more.