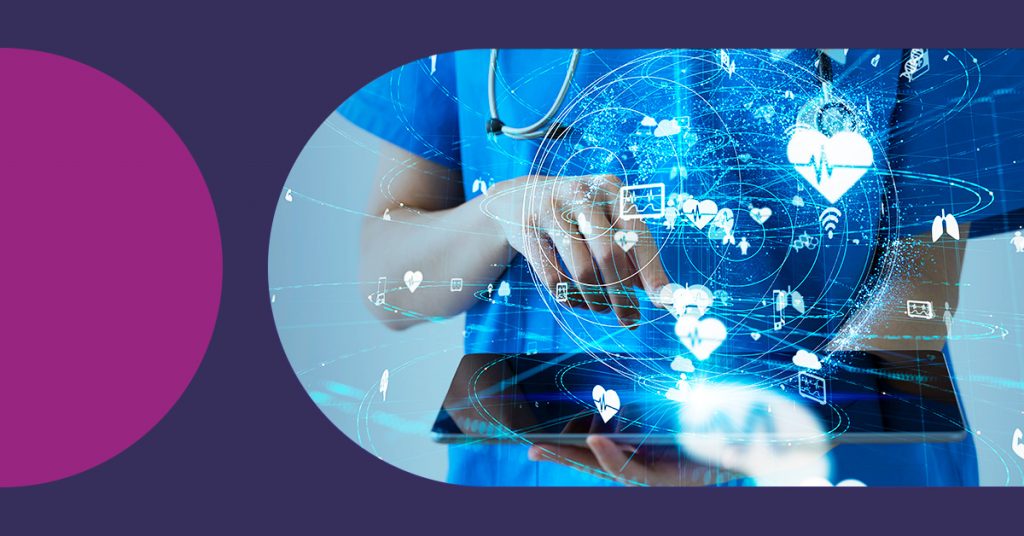 A digital health leader's take on increasing access, elevating patient engagement and improving patient outcomes.
Healthcare was slowly becoming more digital over the past decade. The effects of COVID put the transformation into overdrive.
Digital healthcare stopped being a "nice to have" and became a "must-have." Now digital platforms and online pharma are becoming core pillars for the healthcare system. It will likely take some time to get used to every new solution, but the potential is intriguing. As the industry continues to adapt, digital health innovation stands to provide major improvements to the patient experience.
Rebecca Love, RN, MSN, FIEL, discussed the digital health transformation with Nurse-1-1 Co-Founder & CEO and Michael Sheeley in a fireside chat, "The Future of Digital Health." A former nurse herself, Rebecca is the Chief Clinical Officer at IntelyCare, the intelligent workforce management solution for healthcare facilities. She also is the president of the Society of Nurse Scientists, Innovators, Entrepreneurs & Leaders (SONSEIL) and a TEDx speaker.
Rebecca and Mike discussed nursing shortages, underlying issues in the healthcare system and how digital transformation can invite new solutions.
Here are some major takeaways from the fireside chat:
The State of Healthcare in 2022
A greater reliance on telemedicine and at-home care has brought new challenges for the healthcare industry.
Pre-pandemic, the patient experience included various personal touch points along their journey: a reassuring tip from a nurse or a friendly recommendation from a pharmacist. However, as we've accelerated the transition to digital health, many of the current options lack empathy and human interaction. As a result, problems like non-adherence and patient dropoff have become more prevalent.
Patients have more flexibility to handle treatments from their home (aka "hospital in the home"). This has surfaced a discussion about reimbursements – who's supposed to pay when fewer procedures are conducted in a hospital environment?
To make matters even more challenging, we're facing a shortage of nurses. According to a McKinsey survey, 29% of RNs in the U.S. were planning to leave their roles in direct patient care, with many aiming to leave the workforce entirely. Nurses have shown the potential to be at the front lines of digital healthcare if they're given flexibility and new ways to leverage their expertise.
How Digital Health Can Modernize Healthcare
New challenges require innovative solutions. Thankfully, digital platforms and online pharma can help solve many of the challenges created by the industry's rapid transformation:
Increasing access to care
About 80% of the counties in the United States qualify as "Healthcare Deserts": areas that lack proper access to healthcare resources, according to GoodRX Health. Building out physical infrastructure like hospitals takes time. Digital platforms can help bridge the gap, quicker. People in these "Healthcare Deserts" can access medical expertise through their phones, computers and tablets.
In addition to being easily accessible, digital platforms need to be adopted, trusted and consistently used. Patient experience should be the first priority to ensure that these platforms are eliminating barriers, rather than creating them.
The "hospital at home" ecosystem will also reduce the need for inpatient care, which in turn frees up resources at hospitals.
Elevating patient engagement through automation and personal touch
Automation and artificial intelligence (AI) certainly have their place in the healthcare world. These innovative concepts can help analyze patient data and increase the speed of healthcare transactions. When it comes to patient care, however, the full impact of technology can only be felt if it's complemented by human empathy and expertise.
Nobody wants to speak with a bot when they're interpreting a prescription, for example. Human-augmented technology could look something like this: smart technology analyzes patient data to match them with a nurse that fits their needs, and the nurse takes over via live chat with the patient. You're taking the best qualities of tech (speed, efficiency) and medical professionals (human touch).
Improving patient adherence and outcomes
When digital health options are a.) accessible for everyone and b.) effective in elevating patient engagement, the entire industry benefits.
Patients will feel more confident in the treatments they've been prescribed. Nurses can work with flexible schedules in friendlier environments. Digital health platforms will gain trust and brand equity by delivering positive outcomes. Decreased rates of non-adherence and patient drop-off will lead to the dual benefit of healthier patients and higher healthcare revenues.
The Future of Healthcare
Perhaps the most exciting part about digital health? The continuous innovation. In five years, we could be looking at a host of new solutions that make life easier for patients and providers alike.
AI could help us diagnose diseases earlier than we ever thought possible. The data produced by machine learning will become increasingly more digestible and actionable. Innovative startups should continue to integrate their technology into large healthcare systems. Online tools will enable "hospital at home" to be a reality for more patients than ever.
Through all of this transformation, the most successful solutions will power their digital innovation with human guidance. New technology can't overhaul the patient experience on its own. In order to achieve their potential, digital healthcare platforms must empower human professionals, like nurses, to back their solutions with human compassion, empathy and respect.
To learn more about the potential of digital healthcare transformation, check out Rebecca Love's fireside chat:
https://nurse-1-1.com/fireside-chat